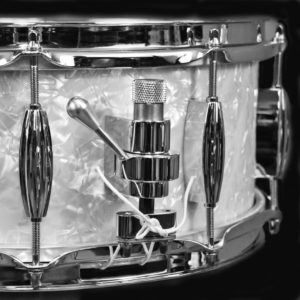 Inspired by the drums of the 50's, 60's and 70's, our Ely Vintage Classic drums feature Mahogany drum shells made with African Mahogany as outer and inner plies, three plies of North American Poplar, and one ply of Birch. Our Vintage Mahogany shells include 10 ply Maple reinforcing rings and rounded edges.   Tom-Toms are constructed in the classic center 6-Lug "Club Date" style and the Bass Drum has the vintage 16-Lug  design. The vintage style hoops are 2.3 "Stick Saver" style.   Classic Marine Oyster Pearl, Sparkle and Glass Glitter wraps are shown on our Stains & Wraps page. Other wraps can be special ordered.
Ely Vintage Classic Sizes: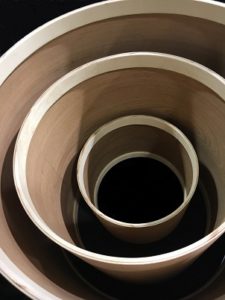 Tom-Toms:      8 x 10 / 8 x 12 / 9 x 13
Floor Toms:    14 x 14 / 16 x 16
Bass Drums:   14 x 20 / 14 x 22
Maple Snare Drums:   5 x 13 / 5 x 14 / 6.5 x 14
Aluminum Snare Drums:   5.5 x 14 / 6.5 x 14
Hardware: Beavertail Lugs, Slingerland style "Stick-Saver" Hoops, Dunnett or Gibraltar Spurs, Trick or Dunnett Throw-off, Dunnett or Gibraltar Floor Tom Brackets and Legs. Optional Dunnett or Gibraltar Tom Mounts with "L" Arms (Special Order Items Available)
All of our shell packs come with Remo Coated Ambassador heads.
About Drum Sizes
Although we will make a size drum that a customer feels strongly about, it is our belief that the sizes shown above offer and produce what we refer to as "our sound".
Request Price List
To request our current Price List, please Contact Us